Why Lithium Marine Batteries Are Florida Anglers' First Choice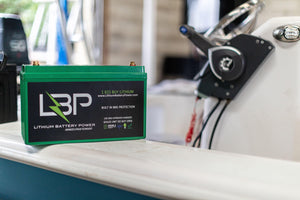 When it comes to efficiency, longevity, and speed, lithium marine batteries are at the head of the pack.
The warm salty breeze, abundant sunshine, and world-class fishing are just a few of the things that attract anglers from around the world to Florida.
Any professional angler worth his salt (pun intended) knows that embarking on a daily outing means bringing a long list of necessary supplies.
From basic items like rods and reels to more specialized gear like gaffs, nets, and fighting belts, the list goes on. But one item that more and more anglers are adding to their "must-have" list is a lithium marine battery.
Want to learn more about this innovative power source? Grab your rod, tackle box, and sunscreen and let's get into it!
Batteries and Boating
The batteries for your boat is just as important as the one in the vehicle you drive—maybe even more so! With countless waterways in Florida to fish in and excursions that take you hundreds of miles offshore, you want a battery that will last.
Florida fishing is exciting and vast, from grouper and yellowtail to sailfish and even sharks. Your attention needs to be on reeling in your next big catch—not worrying that your battery is about to die. 
Another thing every angler in Florida knows all too well is how quickly salt can corrode and destroy everything it touches. Most boats are equipped with a freshwater well just for this reason—to rinse off the deck, rods, and other supplies at days end.
Lithium batteries are known to withstand the test of time (and the ocean) better than any other type of battery.
What Are Lithium Batteries?
Before we get into why lithium batteries are becoming a pioneer in the marine world, let's briefly discuss what they are and how they work.
These types of batteries use lithium ion cells to not only power up devices, but also to help them apply consistent power for longer periods of time. A chemical reaction causes lithium to release electrons, creating lithium ions.
These electrons are then released from the anode of the battery and transferred to the cathode, powering the device along the way. What makes lithium batteries unique is that the electrons are then replaced and returned back to the anode for use once again.
This means energy is constantly flowing and available in lithium batteries. It's also a sealed battery, which means it won't leak.
Another awesome feature of lithium batteries is that they have built-in controls to help regulate charge and discharge. This helps prevent overheating and overcharging.
Why Lithium Batteries for Anglers?
When it comes to life on the water, safety is key. Here are just a few reasons the most experienced Florida anglers trust and prefer lithium marine batteries.
Longer Lifespan
Professional anglers know that a trip meant to last only a few hours can quickly turn into days on the water. If the fishing's good, you don't come in. But what about the life of your battery?
Lithium batteries are not only internally rechargeable but outlive their alkaline counterparts by leaps and bounds. Place a traditional battery on your boat and you're looking at a much shorter lifespan.
Of course, the life span of your battery has a lot to do with how often you use it. To put it in perspective, an alkaline battery lasts for approximately 300 daily cycles, whereas a lithium battery can last for up to 5,000 cycles.
Paired with the right charger, lithium batteries will withstand the test of time. 
Low-Maintenance
There's already enough maintenance associated with owning a boat that anglers don't want to worry about battery upkeep too. Lithium batteries are notoriously low-maintenance, making them the ideal marine batteries.
Lithium batteries' self-discharging rate is much lower than traditional, rechargeable batteries. It takes little maintenance to keep them running. 
Most of us know how frustrating it is to have your car or boat battery die out of nowhere, without warning. The chances of this happening with a lithium battery are slim to none.
Are you an impatient angler? Another awesome feature of lithium batteries is that there's no need to prime it before you use it. Simply put it in place and go!
Eco-Friendly
In today's world, everyone and everything is going green. There's much more importance placed on being eco-friendly. Lithium batteries are making waves in this department.
While lithium batteries aren't completely green (yet), they're much more efficient—lasting longer and producing more. These batteries utilize renewable energy technology and don't require acid or other toxic chemicals to run.
Lithium batteries also offer higher energy density. Even though only about 5% of lithium batteries are recycled, efforts are in the works to boost this number over time. 
More Powerful
Lithium batteries put out a higher voltage at a more consistent rate than lead acid batteries. Even if your lithium battery isn't fully charged, you won't feel a difference in the power of your boat.
This is especially helpful for Florida anglers fishing near bridges, passes, and other areas with strong tides. Your lithium marine battery will have no problem withstanding harsh winds and currents, which means no interruptions in your fishing.
Light-Weight
Every angler knows that the less weight you have onboard, the faster you travel. One of the major benefits of lithium batteries is how lightweight they are. In fact, some varieties can even float!
Not only does a lighter battery leave more room on the boat for other things, but it also saves on fuel. Lighter boats also travel faster, so if you're an angler with a need for speed (or need to race to the next great fishing hole), lithium batteries are guaranteed to get you there faster. 
Cost-Effective
Most people shy away from lithium batteries due to the cost. Upfront, these batteries will run you more than a traditional one. But, as with all things in life, you get what you pay for.
Many anglers who use traditional batteries simply replace them every season to avoid complications down the road. If you don't want to drop a few hundred dollars every year, it's best to invest in a lithium battery that will see you from grouper to amberjack season.
Lithium Marine Batteries Mean Safer, Better Boating
Whether you're a professional angler or new to the Florida fishing world, you'll want to consider lithium marine batteries for your next voyage. 
Cost-effective, clean, lightweight, and efficient, lithium batteries surpass traditional lead acid batteries in more ways than one.
Are you interested in upgrading your boat's battery power before embarking on your next fishing adventure? Contact one of our knowledgeable and friendly staff members today!
---