LBP at ICAST Orlando 2019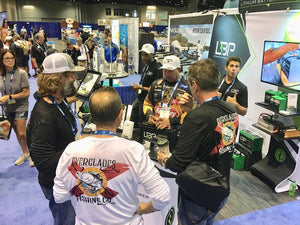 The LBP crew is back from ICAST 2019. Here's our recap of the annual show in Orlando.
This was Lithium Battery Power's first year showcasing our premium lithium batteries, chargers, and accessories at the huge trade show in Orlando, but we received a very positive response so we're looking forward to attending again next year. Overall, ICAST was a blast and it was great to see the marine industry showing off their latest gadgets on the big stage. It's tough to find another gathering with as many passionate anglers, boating enthusiasts, and dealers exchanging ideas under the same roof. Our goal for the International Convention of Allied Sportfishing Trades was simple – we wanted to talk to as many people in the trenches as possible to find out how they're currently using marine batteries, and then offer them a better experience on the water by upgrading to LBP. 
Lots of attendees from all over the world came by the LBP booth to pick our brains on lithium batteries and to see a demo of the Victron Smart Gauge in action (we had one hooked up to a standard 12V 100Ah lithium battery and a small 12V trolling motor), but perhaps a lot of the buzz was around the free lithium ion trolling motor kit that we were giving away in a random drawing.
Congratulations to the big winner of our giveaway, and thank you to all of those who paid us a visit! LBP would also like to extend a special thanks to FLW Tour angler Bobby Lane for stopping by the booth to share his thoughts on how our lithium batteries have made a huge difference in his professional bass fishing career.
Marine Industry Trends and the Coolest Tech We Saw in Orlando
ICAST 2019 was the year of the 36 volt trolling motor. Once only available in 12 volt and 24 volt options, there's a big trend right now towards more powerful trolling motors with foot pedal operation. While the sleek Garmin Force took home the New Product Showcase award for "Best of Show", we were even more impressed with the new Lowrance Ghost trolling motor. Well-designed products like the Ghost make Lowrance one of today's top companies to watch out for when it comes to big technological advancements in the marine industry.
Some of the features that we like the most about Ghost are its built-in fish finder technology, silent operation, foot control throttle with built-in battery level indicator, multiple power options (switch between 12V, 24V, and 36V with the flip of a switch), and a brushless motor that generates the most thrust and longest runtime over any trolling motor on the market. When you pair up the Lowrance Ghost (or any other trolling motor) with a LBP lithium battery, you can be confident in knowing that you'll have enough power to troll all day with plenty of battery life to spare. Just don't forget to add on a Victron Energy BMV-712 Bluetooth Smart Gauge to keep an eye on your battery life via the iPhone app.
Another product which has evolved quickly over the last few years is the personal fishing kayak. There were several really interesting go-anywhere kayaks on display at ICAST, many of which will be hitting the market soon with very reasonable prices. The Bonafide Black Widow was certainly one of the most eye catching designs that we saw – looking like something that Bruce Wayne would personally use to catch fish with on the weekend. As manufacturers continue to refine and innovate these personal watercraft, we expect that lithium ion batteries will eventually be the number one choice for kayakers looking to shed extra weight. LBP's 12V 35Ah lithium battery weighs less than 11 pounds and is perfect for powering a GPS, fish finder, or even a small 12 volt trolling motor.   
Showcasing Lithium Ion Marine Batteries at ICAST 2019 
While LBP 12 volt lithium batteries get lots of praise for their versatility and high cranking power, we experienced the most buzz at ICAST around our newest 36 volt trolling motor batteries. This is due largely in part to their class-leading compact size that packs a serious punch. At this time, Lithium Battery Power is the only US manufacturer with a Group 31 size 36V 40Ah and 36V 60Ah lithium battery. Each one of our 36V batteries weighs in at a meager 24 and 33 pounds, respectively.
It was fascinating to meet a lot of bass anglers who are running three 12 volt AGM batteries in series just to get to this desired power output for trolling. When you factor in that these batteries can clock in at around 75 pounds each, that's a lot of unnecessary weight just to run a simple trolling motor! 
This is a good time to note that all Lithium Battery Power batteries are backed by a 10 year manufacturer's warranty (7 year full replacement, 3 year prorated). Even after 2000 cycles, your lithium battery will still provide 80% of its original energy capacity. You may save a few bucks up front by purchasing cheaper batteries that die quickly, but the cost-per-use over 10 years makes lithium the clear cut winner. 

LBP placed #11 in the ICAST Cup
Contact Us to Inquire About Dealer Pricing
Lithium Battery Power has always known that lithium was the solution to an energy problem that many boaters face, but it was refreshing to see our products get such a warm reception at ICAST. It's pretty clear now that there's a huge demand on the market for a lighter, higher quality, and larger capacity lithium battery to take the place of outdated lead acid and AGM batteries (which need to be replaced every ~2 years). If you have any questions on making the switch, or if you would just like dealer pricing, please don't hesitate to reach out to one of our friendly team members today.
---