Do You Know What's Inside of That Lithium Battery?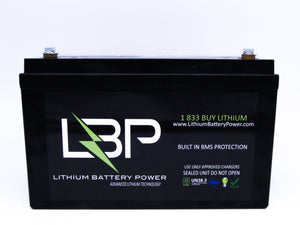 Before you invest in lithium technology, let's take a closer look at what goes into some popular batteries.
When shopping for a reliable lithium battery, consumers are faced with lots of different options around the pricing spectrum. It can be tempting to just buy the least expensive battery (or set of them) and call it a day, but you need to first inform yourself about how that cheap battery is put together. Often times manufacturers will use inexpensive materials and cut corners while building batteries to maximize profits.
While we certainly understand the need to save money, catastrophic battery failure isn't a risk that we're prepared to take here at LBP. We overengineer our products because we understand that failure isn't an option when your home relies on solar energy, or when you're fishing 100 miles off the coast of Florida.
One day in our lab we decided to do a little test. We ordered a few 12V 100Ah lithium ion batteries from competitors – one priced at $600 and another near $900. When these batteries came to our facility we took them apart to fully examine their build quality, materials, and construction. Sadly, the results were not that surprising. We found all sorts of issues with the bargain 12V 100Ah batteries, as you can see below. In the name of full transparency, we also took apart one of our own batteries to highlight the superior build quality.
Here's the thing… Most inexpensive batteries aren't built to be UN/DOT 38.3 compliant. That's the statute that says a lithium battery has been tested and is safe to transport. Lithium iron phosphate is technically a dangerous good and must be handled correctly to avoid problems. In order to be UN/DOT 38.3 compliant, for example, one test includes batteries being repeatedly shaken at over 150 G-forces! Some companies skip these tests to save money as it's very expensive to become certified. Many companies will state that they are UN/DOT 38.3 "Approved / Compliant" which is not to be confused with the term "Certified". You can rest assured knowing that Lithium Battery Power batteries will always pass these certification tests with flying colors.
Feel free to take a look at these pictures and draw your own conclusions. Would you trust bargain batteries to power your lifestyle?
$600 MSRP 12V 100Ah lithium battery
$900 MSRP 12V 100Ah lithium battery
$1300 MSRP 12V 100Ah lithium battery
---